So you are shopping for a wedding gown, but don't think that the standard poufy white dress is for you. Well, fear not, because there are many great choices out there for the bride who is looking for something a little different. There are a wide variety of cutting edge bridal gowns available.
What makes a gown cutting edge? Well, for starters, it has to deviate from the norm in some, if not all, ways. It should be unique. A cutting edge gown should also be one that cannot be carried off by just anyone: it requires a special sort of bride to wear it.
Because these dresses are unusual, there is no one prevailing trend. The options are all over the map, which is great. It means that will a little looking, every bride will be able to find something that speaks to her. It also means that you won't see a large number of brides in any one of these offbeat styles, which is kind of the point of picking something different in the first place.
One style that you see on runways is wedding dresses with mini-skirts. On the top, they basically look like any other gown, but once you get to the bottom half...well, there really isn't much of a bottom half! This type of wedding gown should, first and foremost, only be considered by brides with great legs. It is also a style that would look out of place on a bride over a certain age. (I will leave it up to you to decide exactly what that age is!)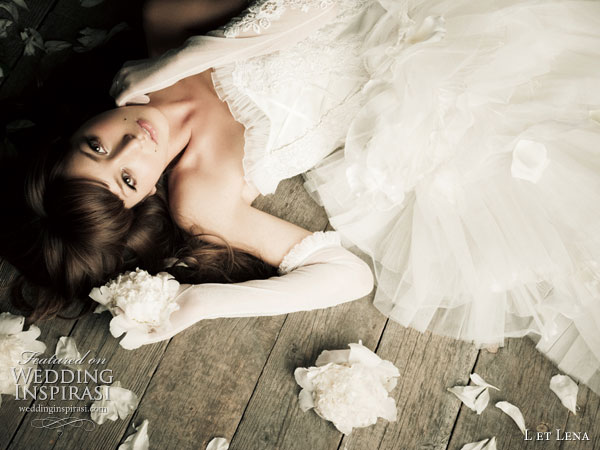 For a style that could work on a bride of any age, check out the menswear inspired bridal gowns. They are created in standard white or ivory bridal fabrics, but have details like tailored jackets over a full skirt. This type of wedding dress is perfect for brides who have always loved the look of a woman in a sexy tuxedo as evening wear. It could also work as an equestrian inspired bridal gown.
For the ultimate in sexy, turn to one of the cutting edge gowns that have holes or cut-outs in them. Some have sheer lace panels in the bodice, while others have actual parts of the bodice fabric removed to reveal skin. They are often paired with full skirts, which does help to tone down the avant-garde nature of these revealing gowns a little bit. There is still something very daring about baring your skin on your wedding day. Prepare to shock your grandmother!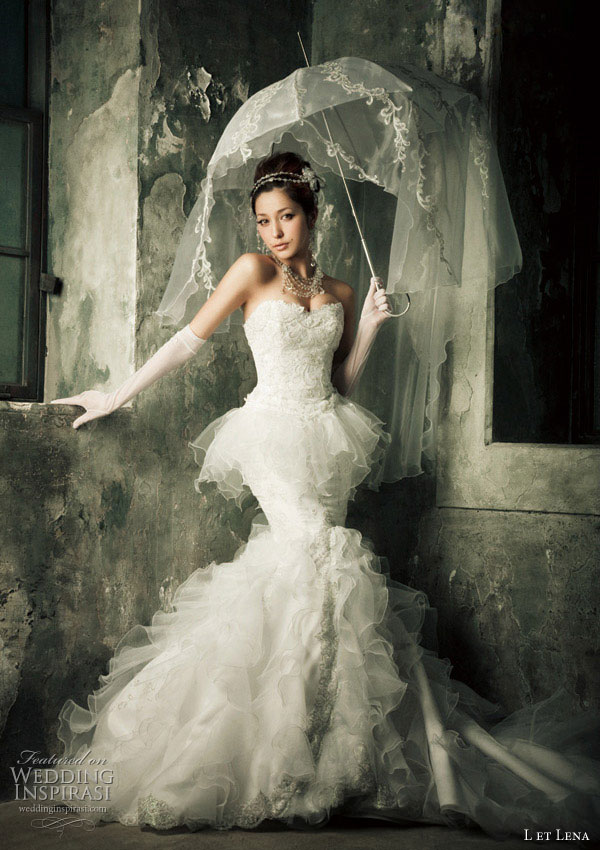 Cut out bits should definitely only be worn by brides with very toned tummies. If you have a very pale white stomach, you should probably skip this style. Because they often have fairly traditional silhouettes, theses cutting edge gowns can be accessorized like any other.Choose your veil, headpiece, and wedding jewelry based on the details of your particular gown.
For brides who like drama, choosing a cutting edge can be the way to achieve it. These styles are not for everyone, but they certainly will allow a bride to express her own unique style and taste. Having a gown that really feels like you is a great way to make your wedding even more fun.
2011 Wedding Gowns + Edge Cut
Reviewed by
Delet
Published :
Rating :
4.5