The bridal designers have recently debuted their collections for Fall 2011 in New York, and there are some noteworthy new trends (hint: the one shoulder style is done). Certain design elements have been carried over from Fall 2010 and Spring 2011 bridal gown collections, but there are a few things which are definitely different about the latest creations. Learn about what will be hot (and what will not be hot!) for 2011 wedding gowns.
There was a clear return towards more simple in the new Fall 2011 designs than we have seen in recent years. The strong trend towards asymmetry has dramatically declined. The one shoulder gown which was so chic for a couple of seasons has all but disappeared from the new collections. Gowns have returned towards a more traditional and classic bridal elegance, and away from the daring fashion-forward styles which were so popular for a couple of seasons. These gowns are definitely safer, and will please any bride who appreciates timeless elegance.
No designer better exemplified the new direction in fashion for Fall 2011 bridal than Amsale. The vast majority of her gowns had completely unembellished skirts, the likes of which we have not seen for several years. Gone are the ruffles, tiers, and artfully shredded tulle or organza details which have been featured by all the designers the last few seasons. The newest bridal gowns are ladylike and refined, well cut, and minimally adorned. Particularly at Amsale, a gown might feature little more than a bow or single blossom at the waist for embellishment. A simple pair of pearl earrings and a long veil is about all this style of gown needs to feel complete in its understated grace.
The 1950s inspired trend continues into the Fall 2011 . Sweetheart necklines were in abundance, sometimes strapless and at other times with tiny spaghetti straps. The natural waist which was ushered in by the '50s revival is still the favored waistline. It was generally seen with a simple accent, such as a bow, flower, or narrow row of crystals right along the waistline. Tulle and patterned organzas are still in style, as they suit the simple silhouettes of the gowns. The tulle styles would be gorgeous for a warm weather wedding, and for cooler weather, there were some lovely silk taffeta options. Again, pearl earrings and necklaces are the ideal accessories for this type of gown.
In general, the move was away from the dramatic silhouettes, such as the fitted trumpet with the explosion of fullness at the bottom. For Fall 2011, most shapes are more subtle, such as a silk mikado gown with a gentle flair near the hemline. However, brides who have their hearts set on all-out glamor and drama will not find themselves to be completely without options. Monique Lhuillier's latest collection features many of the fashion-forward details which have been seen in recent years, and brides can always turn to Kenneth Pool when they want gowns in luminous silk satin with rich embroidery.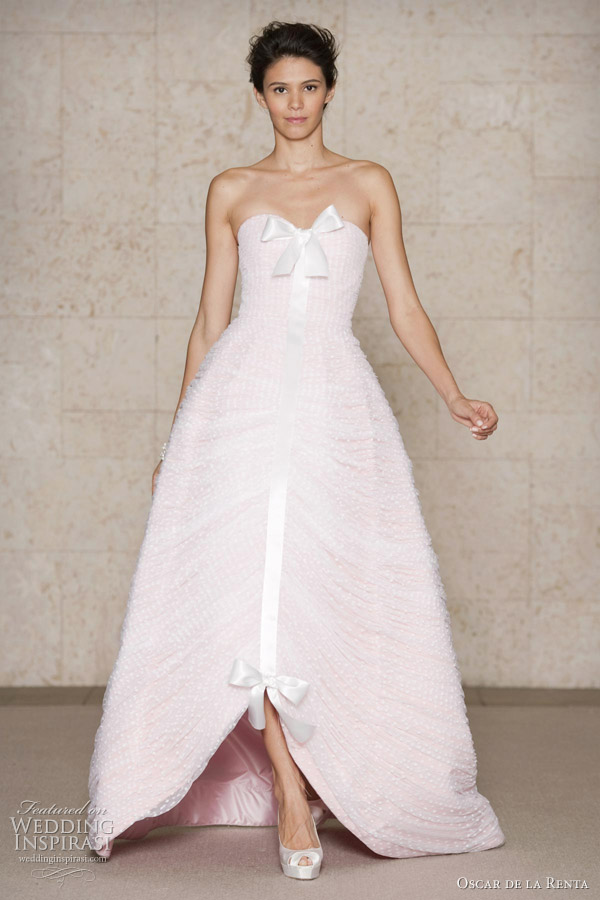 The bride seeking a short gown either for her ceremony or as a second dress for the reception will find numerous options, as this was something featured in almost every designer's collection for Fall 2011. Happy shopping!
Source

Wedding Gown | 2011 Wedding Gown Trend
Reviewed by
Delet
Published :
Rating :
4.5